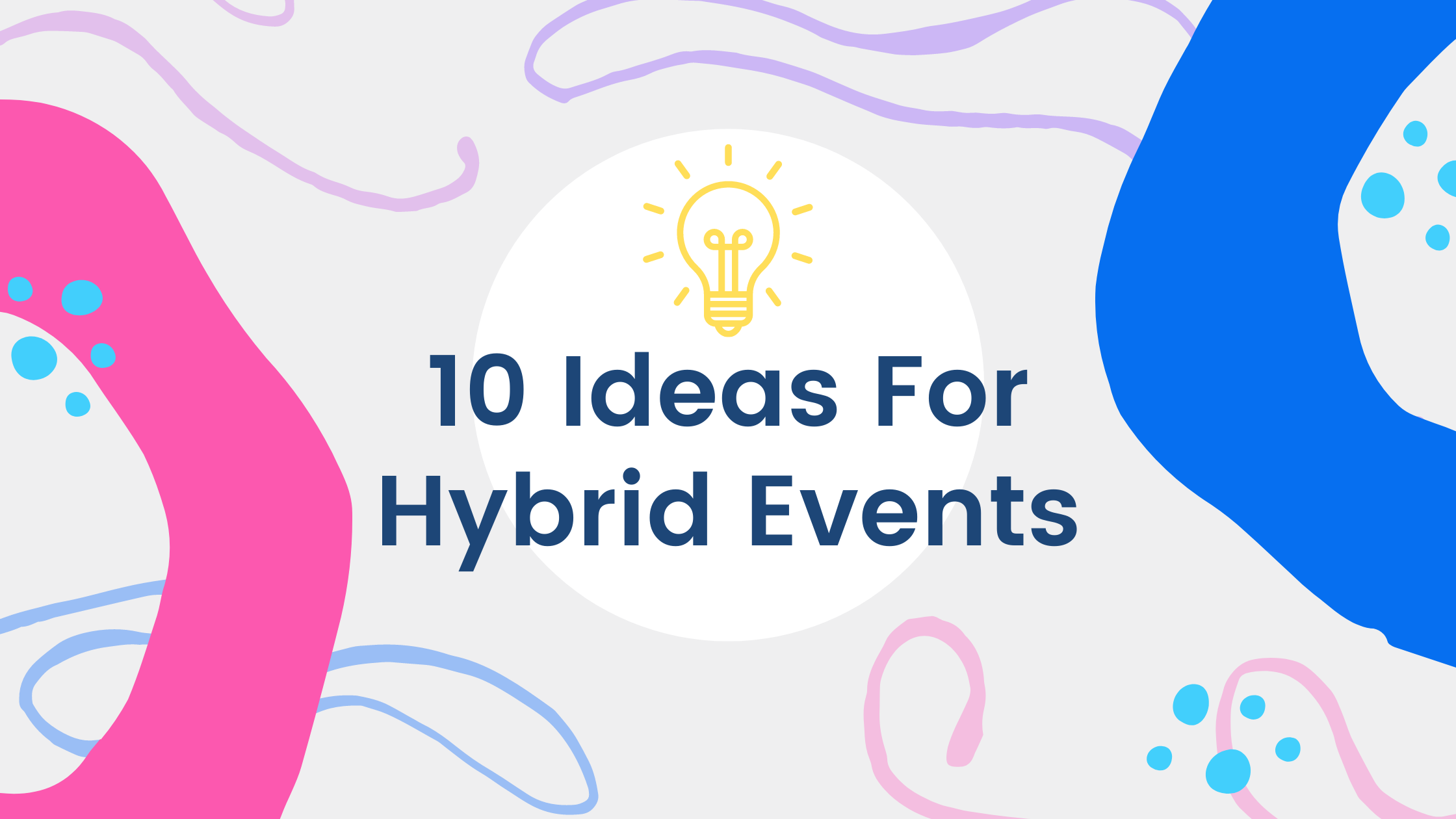 Jul 9, 2021
10 Creative Ideas For Hybrid Events
The term "hybrid event" has become a buzzword in the nonprofit world, but what exactly does it mean? What's a hybrid event even look like? This new method of fundraising has more benefits than you may realize (even in a post-pandemic world)!
Keep reading to learn…
What a hybrid event is

The benefits of hosting a hybrid event

10 creative ideas for hybrid events to inspire your nonprofit
What

Is

A Hybrid Event?
Hybrid fundraising events simultaneously combine virtual and in-person event elements in order to achieve optimal results by tailoring to the needs of multiple audiences at once.
But just because hybrid events include both elements doesn't mean you have to have an even, 50/50 split. Your event can include more virtual or in-person elements as needed, depending on what makes sense for your supporters. Even if it's mainly in person, for example, the most important thing during event planning is that you prioritize the experience of both audiences.
Imagine attending your event from their seat when planning event elements. Supporters should feel included, engaged, inspired, and appreciated.
The Future Of Fundraising?
After being forced to pivot online and face slow re-openings, many nonprofits are recognizing the potential of hybrid events.
One of the main benefits is that it allows organizations to have a greater reach, which is good for growing awareness and sponsorship opportunities. The hybrid model also makes your event more inclusive because it removes barriers for attending in-person.
Once a hybrid fundraising event ends, you're left with a longer shelf life: Supporters can hit replay whenever it works for them, which isn't normally possible with in-person-only events. Plus, hybrid events allow for more ways to donate, so that your supporters are empowered to provide support in a way that works best for them, whether that be with an in-person check, recurring monthly gift online, or another way. Supporters can do all of that from the convenience of their home or the delight of safely gathering in person.
Many event organizers already see the immediate opportunity in today's virtual world: 34% expect to invest more in hybrid events in the next few years. And well beyond the COVID-19 pandemic, 73% of event planners now think hybrid events will be common in the future.
Ready to start dreaming up your organization's hybrid fundraising event? We've got your back. Here are 10 creative ideas for your next (or first!) hybrid event.
10 Creative Ideas For Hybrid Events
1 - Dinner And A Show
Who doesn't love a classic dinner and entertainment combination? In-person attendees can be served right on site, and for the virtual component online viewers can be emailed a gift card for restaurant pick up or delivery. When it comes time to make the "ask," both in-person and online attendees can be invited to donate directly online at your website.
Ideal Formats: Concert, talent show, magic show, play, dance recital.
2 - Endurance Event
Ready, set, fundraise! One of the biggest benefits of this classic fundraising event format is that it incorporates the power of peer-to-peer fundraising. You can choose a day for your endurance event or have the event go on for a set period of time to see who raises the most.
Either way, you can get creative, have fun, and allow supporters to move for your mission at home or in person. Both types of participants should be invited to donate online on your crowdfunding page.
Ideal Formats: Walkathon, 5k fun run, bikeathon, dog walkathon, danceathon.
3 - Auctions And Raffles
Sold! Giveaways are a great way to engage supporters online and in person. Auctions or raffles don't just have to be an element of your fundraising event—they can be your main attraction. Regardless of your format, bidding can take place in person or online. Plus, auction items or raffle baskets can be 100% donated from sponsors, local businesses, or supporters so you keep overhead costs low.
All you need to do is set up a basic online auction page with pictures and descriptions of each item up for grabs. Then, share the link of the aution page with at-home attendees. For the in-person attendees, have tablets available at your auction items so that both types of participants can bid online simultaneously. This will help your team more easily monitor and keep track of winners so that you can quickly announce them via livestream. After the winners are announced, don't forget to invite all supporters to give online on your website to make a lasting impact.
Ideal Formats: Silent auction, live auction, mobile bidding, raffle baskets, 50/50 raffle, celebrity auction.
4 - Scavenger Hunt
Harness the power of social media for this fun hybrid event. Have people search around town for items you've placed, or explore their own homes for common household items that you've included on your list. Use this hunt to educate supporters about your organization by sharing information for each item they find.
Pro tip: For each item you've placed around town, also include a QR code, text-to-give link, and website link so that people have opportunities to support your organization every step of the way.
Ideal Formats: Prizes for winners, themed teams, family-friendly Christmas or Halloween scavenger hunt, photo hunt, treasure hunt.
5 - Drive-Through Gala
Have participants get dressed up and drive through stations you've designed for them. Maybe along the way they pick up food, drinks, or some other kind of activity kit, so when they get home they're ready to attend the virtual portion of your event to learn more about your organization.
Similar to the scavenger hunt hybrid format, be sure to provide your giving links at every station to make donating as easy as possible for attendees. During the virtual portion of the evening, make sure your QR code, text-to-give code, and donate button are clearly visible.
Ideal Formats: Haunted house drive through, Christmas light drive through, coffee and tea drive through, local restaurant drive through.
6 - Tours
Does your organization have connections with local attractions? Offer in-person and virtual tours with exclusive, behind-the-scenes perks for your supporters.
The easiest way to fundraise for tours is to sell tickets. On top of this, you should also include giving links on your digital and print tour maps, really highlighting any and all membership opportunities you might have.
Ideal Formats: Local art gallery, museum, aquarium, restaurant, winery, brewery, park, historical site.
7 - In The Kitchen
Participants can join in-person or from the comfort of their own kitchen to cook along, or just to watch! There are a couple of different ways you can do this. Offer tiered ticketing (people who purchase top-tier tickets get to attend in person) or segment audiences based on relationship to your organization (in-person seats reserved for board members or volunteers).
To raise maximum funds for this tasty hybrid event type, consider the importance of the ticketing format - keep things organized to ensure an accurate headcount and that you maximize the number of participants. Then, at the event or after the event offer your culinary students another opportunity to give above and beyond through a one-time or monthly donation on your website.
Ideal Formats: Adult or kid's cooking class, cook-off, cocktail making, wine or other tastings, baking classes.
8 - Get Active or Crafty
Are your supporters not into food and drink? Offer them a special class you know they'll enjoy virtually or in-person!
It really depends on what format you choose, but let's say you select a knit-a-thon. You could safely gather a limited number of supporters at an event location (like your organization's office) and livestream the event for online attendees. Throughout the livestream you should have your website's donation link and button clearly visible so that when the time comes to make the "ask," attendees know exactly where to give.
Ideal Formats: Fitness class (dance, biking, yoga—you name it!), paint night, mindfulness class, guided outdoor tour, knit-a-thon.
9 - Conference
Conferences are a fantastic way to educate your supporters! Invite multiple keynote speakers to speak on the mission of your organization, the problems you are trying to solve, and the solutions available.
Offer different ticket options for in-person and virtual attendees who will watch via livestream. Just make sure there are different perks for both! For example, VIP tickets for meet-and-greets with speakers for in-person attendees, and exclusive virtual coffee breaks to network with other like-minded virtual attendees.
Ideal Formats: Related to industry professionals (e.g., educators, healthcare workers, environmentalists, theologians, social workers, etc.), local community interest, statewide or national collaborations, in connection with calendar or holiday relevant to topic (e.g., National Mental Health Awareness Month in May).
10 - Game Nights
Time to foster some friendly competition! You can host a one-night-only game night or a tournament supporters can participate in over time. Require an entry fee to play that goes directly toward your charity and include more opportunities to donate online throughout the event.
Ideal Formats: Board games, video games, trivia night, contests, bingo (or, zingo: "Zoom bingo"!)
Hybrid Help Is On The Way!
If running an event with in-person and virtual elements feels like too much to handle, you're not alone: 67% of event organizers shared that one of the biggest challenges when hosting hybrid events is finding the right online fundraising technology to ensure a smooth hybrid event experience. Don't let a fear of technology get in the way of building trust with supporters in person and online!
At Givecloud, we've got you covered. It's okay if you're not sure how to run everything on the back-end—that's what we're here for! We take care of the how so you can focus on the why.