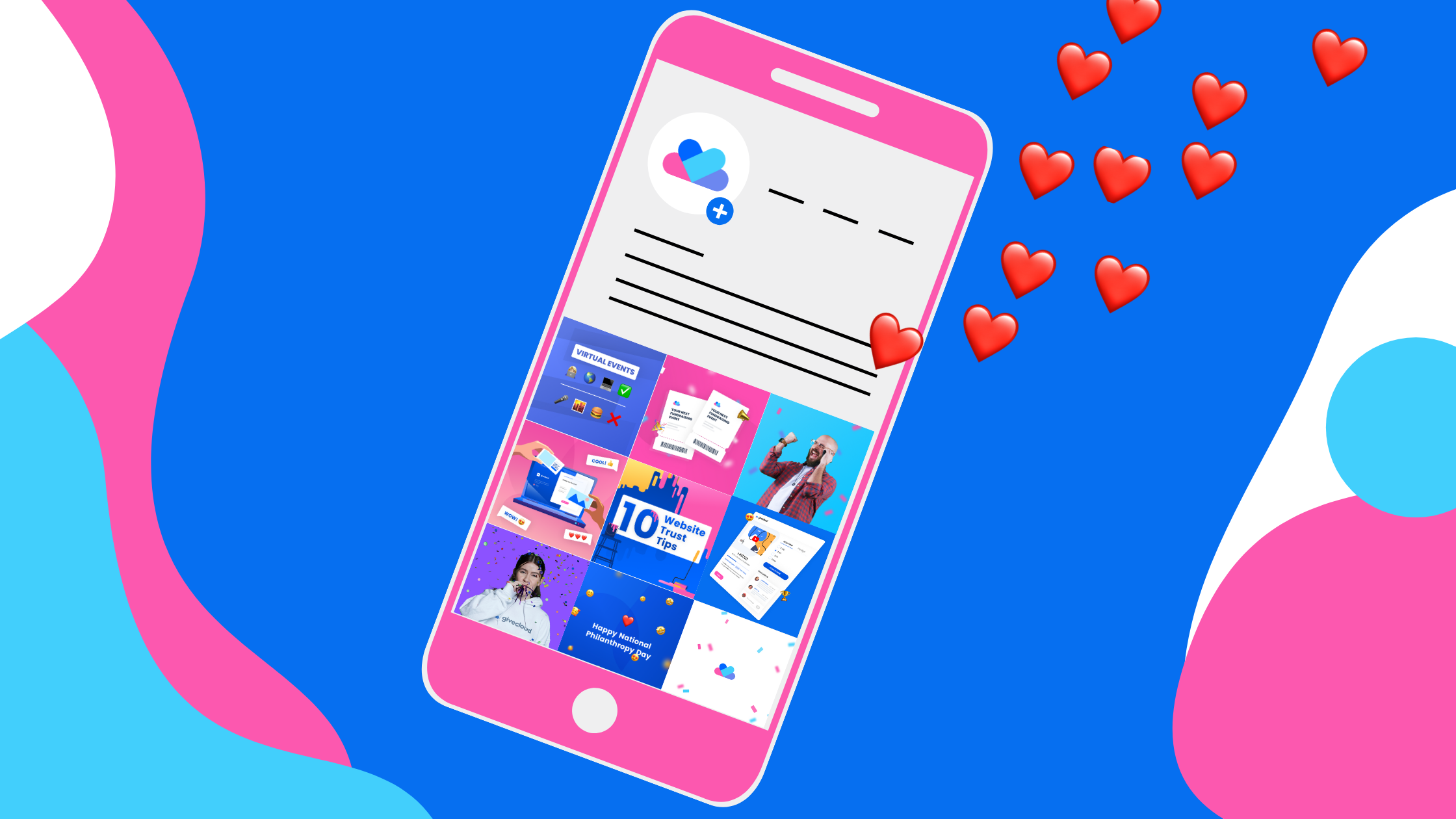 Nov 19, 2020
How to Convert Social Media Followers Into Donors
Nearly 50% of the world's population uses social media. That's over 3 BILLION users worldwide! Social media presents a massive opportunity for your nonprofit to build trust, develop community, and increase impact. The best part? It's less expensive than other marketing strategies and has a great ROI for nonprofits.
55% of people who engage with a nonprofit on social media end up taking some sort of action. Whether it's donating funds or items, volunteering, participating and attending events, or purchasing products, social media can boost your fundraising efforts.
Keep reading to learn:
How nonprofits can create a social media strategy

Different ways nonprofits can make the most of social media
Social Media Strategy for Nonprofits
To build a strong social media strategy, nonprofits should start by auditing their current marketing strategies.
A social media audit includes a 3–5 document detailing:
What content you're already creating and publishing.

What content you need to revise or remove.

What marketing materials and testimonials you have.

A SWOT analysis (Strengths Weaknesses Opportunities Threats).

What your closest "competitors" are doing and how you can differentiate.
After you create an audit, define your target audience. Understand what kinds of content your ideal followers are interested in interacting with online. Empathize with problems they want to help you meet, and meet them where they are on social media.
Then, set realistic goals with a timeline to achieve them. Make sure your social media goals align with the overall fundraising strategy of your organization. You will want to be sure you establish evaluation methods upfront, so your team has clear expectations for what success looks like and how to measure it.
Next, determine which channels will help you reach your goals. This should be primarily based on two things: 1.) what platform your target audience uses most, and 2.) the kinds of content you want to share based on your goals.
Here's a quick overview of what each platform is best for:
LinkedIn

: authoritative, professional, educational, company updates, finding new donor networks, targeting email addresses

Instagram

: visual, personal, bite-sized content, expressing personality, interacting with community (not necessarily generating leads), behind-the-scenes, raising money

Facebook

: donation appeals, peer-to-peer, shareable content, building community, generating leads to website or blog posts (especially with groups)

Twitter

: newsworthy, timely, trending, establishing a brand personality

Pinterest

: clickable, helpful or aspirational content, longer shelf life

YouTube

: video, longer content that educates, entertains, or provides overviews, higher focus on quality than quantity

TikTok

and

Snapchat

: more exploratory, raising awareness, higher among younger audiences, entertaining, viral content, more casual, behind-the-scenes
Finally, define your brand personality. Establishing your organization's personality early on and keeping it consistent allows followers to know what to expect. This also helps them build trust with your organization and mission. After you've made a list that describes your organization's personality, develop pictures, videos, and graphics for mobile devices to keep your look cohesive across platforms.
Ways Nonprofits Can Use Social Media
Before you start posting in hopes of converting social media users into donors, keep reading to learn the most effective ways nonprofits can win with social media.
Build Trust
Increase credibility by using social media to develop social proof. This is done by combining the content you create with the content you earn (i.e., "User-Generated Content").
Here are some fast facts about why user-generated content (UGC) is an effective way to build trust:
Develop Community
Engagement is key! Regardless of what your overall social media goals are, it's going to be hard to reach them if engagement isn't a part of your strategy. There are many ways to do this:
Set expectations for engagement early on by requesting responses in social posts.

Tag other organizations with similar missions to partner with your nonprofit.

Like, comment on, or share posts you're tagged in.

77%

of Twitter users feel more positive about a brand when their Tweet has been replied to.

Invite your top supporters to be a part of Facebook groups, and ask them to share content related to your nonprofit. When users create and share content on social media channels, they get

28% higher engagement

compared to standard company posts.
Increase Impact
Watch audience behavior and adjust your strategy accordingly. See what posts and calls to action are getting top engagement. Notice when your social networks are online and most active. As you observe, don't be afraid to directly solicit feedback from followers. The most important part of this is to make sure you are actually acting on this feedback!
Don't be afraid to take it slow. It is better to begin with fewer, high-quality posts than a ton of low-quality, obviously promotional posts. Focus on building a strong foundation on social media to build a thriving online community over time.
Dare to Go All In by Trustraising
Trustraising is founded on the idea that all great relationships are based on a foundation of trust—and that's no different between friends, partners, customers, or donors. We believe a healthy focus on being trustworthy will 10x the results you're looking to achieve as an organization at every level.
Information overload is creating a noisy, distracted world that often values vanity and quick-results over deep, meaningful relationships. Trustraising is an invitation to dive deeper than fundraising metrics, data, and best practices. Trustraising is your heart tugging you towards what really matters—truth, mission, and people.
Follow along with our weekly blog posts and email series to learn how you can build trust, develop community, and increase impact through Trustraising. Subscribe today so you never miss a chance to learn more.