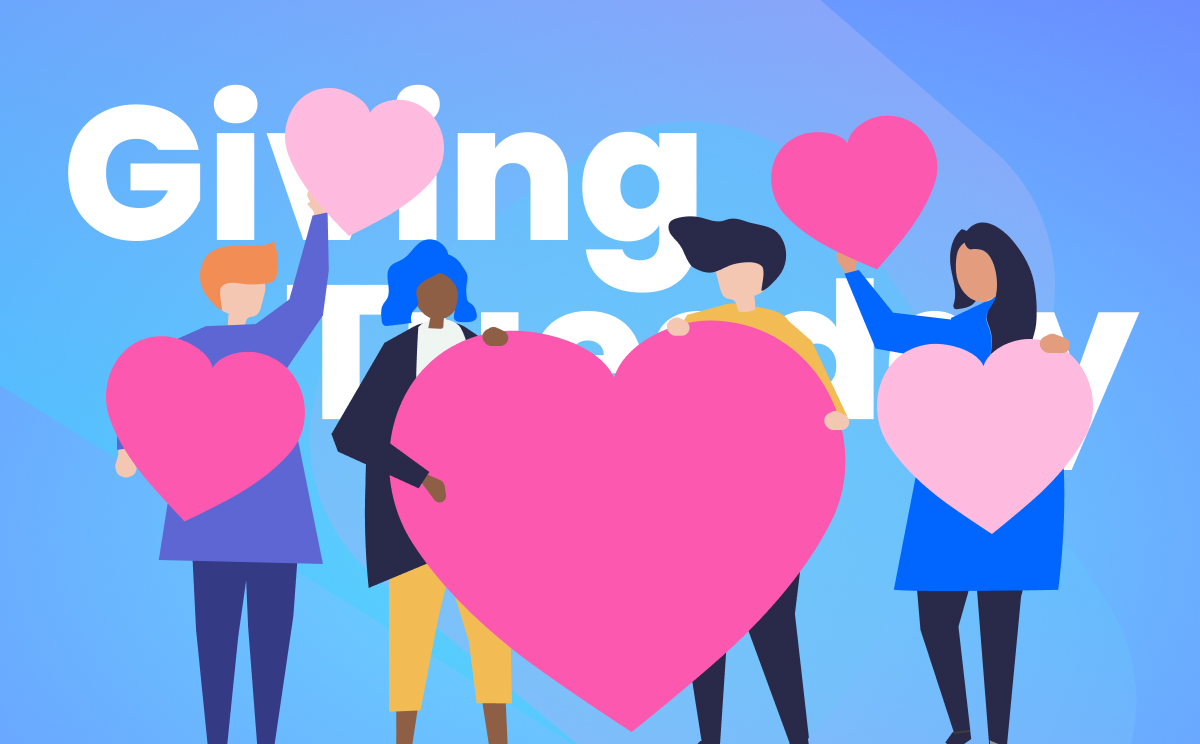 Oct 29, 2021
Get Ready for Giving Tuesday 2021
Everyone has something to give and when we come together in solidarity we will see the power of more hearts and not just a reliance on a few deep wallets. Giving Tuesday is a wonderful opportunity to connect with your supporters, meet new supporters and kickoff long-term relationships focused on making a difference.
Giving Tuesday is a can't-miss opportunity. It's the biggest giving day of the year, sandwiched between Black Friday and Cyber Monday.
World changer: you've got this! We know you do. That's why we've rounded up 10 strategies to help you make Giving Tuesday 2021 work for you.
What's Giving Tuesday?
It all started with a viral hashtag: #GivingTuesday. New York's 92nd Street came together with the United Nations Case Foundation. They dared to ask the question, "What if we could combat the holiday season's consumerism with the power of generosity?" On November 27, 2012, Giving Tuesday was born.
In the words of GivingTuesday,
"Giving Tuesday was created as a simple idea: a day that encourages people to do good. Over the past 8 years, this idea has grown into a year-round global movement that inspires hundreds of millions of people to give, collaborate, and celebrate generosity."
To participate in this epic day of giving, nonprofits do not need to register with GivingTuesday. Simply stick the Giving Tuesday hashtag and logo on your social media posts, update your donation forms, and you're good to go!
Keep in mind…
It's 100% free to participate.

Register as a partner in your own

local community

.

When registered, your nonprofit will appear on GivingTuesday's site.

New donors can find you when they search for "participating charities."

Registration may increase your media attention.
We definitely recommend using the GivingTuesday tools and materials to maximize your campaign reach.
When's Giving Tuesday 2021?
Giving Tuesday is always the first Tuesday after Thanksgiving. This year, Giving Tuesday falls on November 30, 2021.
How to Make Giving Tuesday Work For

You
$2.5 Billion.
That's how much was raised for charity on #GivingTuesday 2020. This is a 25% increase from the $1.97 billion raised online and offline in 2019.
Giving Tuesday 2020 was a remarkable year as people across the globe, despite global health issues and social and economic shocks, joined together in generosity. A true sign of what Giving Tuesday is all about, an invitation to supporters to join in something bigger.
Think of Giving Tuesday 2021 like the world's largest Peer-to-Peer campaign. As if GivingTuesday has invited you to start your own fundraiser. Because, well, they have! (Did you know GivingTuesday is a nonprofit?) Except, all of the funds you raise benefit your charity.
Many nonprofits have unintentionally participated in GivingTuesday's Peer-to-Peer fundraiser for years. Since 2012, we've seen small, grassroots organizations put in a ton of work, only to yield little (if any) results on the last Tuesday of November.
Now's the time for nonprofits to reinvent the way they approach Giving Tuesday. This time, making it work for you, not the other way around.
There are countless ways your nonprofit can get involved and make a difference this Giving Tuesday. Explore these 10 do's and don'ts to make Giving Tuesday 2021 work for you.
Giving Tuesday Do's
DO consider how Giving Tuesday fits into your holiday giving strategy.
First things first: step back, put yourself in your donor's shoes, and look at your nonprofit's fundraising calendar. Giving Tuesday likely falls in the middle of your year-end campaign. Your direct mail appeals have already landed, your email series is about to launch, and you have a social media campaign going.
Starting to sound a little noisy? It is. Giving Tuesday is one of the most crowded giving days of the year. By November 30th, your donors may have already been asked to donate multiple times.
Donor fatigue is real. But here's the thing: donors don't get tired of inspiring ways to give back to causes they trust. Stepping back and empathizing with your donors should compel you to sprinkle non-appeal messages into your year-end calendar. Non-appeals are messages of thanks, inspiration, or impact without any solicitation for funds.
Ask yourself: why do we want to participate in Giving Tuesday? How does this fit into our holiday giving game plan?
DO assess the best use of your team's time.
What's your fundraising team best at? Where has your nonprofit found Giving Tuesday success in the past? The answers to these questions will help you determine where you should invest time this Giving Tuesday. Fundraising fatigue is real too, so don't spread yourself too thin.
For many nonprofits, the sole focus of Giving Tuesday is to collect donations on November 30th. This is a great place to start, but there are other metrics of success. Consider these alternative wins to make Giving Tuesday work for you:
Rally a greater sense of community among supporters

Increase engagement on social media

Gain email subscribers

Recruit volunteers and advocates

Grow monthly supporters
DO use Giving Tuesday's f-r-e-e toolkit.
Did you know GivingTuesday created a resource web page for nonprofits? It includes key messages, timelines, goals, email and social media templates, sample press releases, and more. Yes, really! See for yourself.
DO experiment with virtual fundraising strategies.
Due to a virtual shift, Giving Tuesday looks a little different these days. We already see fewer in-person events. Giving Tuesday 2020 was certainly a preview of this when COVID-19 first hit. Many nonprofits went completely remote with fundraising strategies such as live stream and Peer-to-Peer.
Explore these real-time fundraising strategies. See if live stream and Peer-to-Peer may be the boost your nonprofit needs for Giving Tuesday 2021 momentum.
DO have a stewardship plan in place.
How do you plan to thank your Giving Tuesday donors? Show them some love through a special thank-you email receipt, handwritten note, or unique postcard. But stewardship doesn't end with a message of gratitude; it's just the beginning.
How will your team follow-up with Giving Tuesday donors to cultivate a relationship with them? A phone call, a Zoom meeting, a "welcome" email series? You need a stewardship plan if you want Giving Tuesday donors to stick around past the holiday season.
Giving Tuesday Don'ts
DON'T reinvent the wheel.
When creative ideas are running high, it's easy for fundraising teams to think they need to reinvent their Giving Tuesday campaigns every year. Don't fall for it! Go back to GivingTuesday's website and toolkit. Implement best practices and then add in your new ideas.
DON'T get lost in the crowd.
It's easy to get drowned out in your supporter's noisy inboxes and newsfeeds on Giving Tuesday. Eye-catching subject lines and high-quality images and videos will help.
Even better? Run small ads on Facebook and Instagram. Even $10 per post can go a long way to improve your reach. For example, without an ad boost, you may reach a few hundred people. With a small, $10 investment, you could reach a few thousand.
DON'T burn out major donors or board members.
Major donors and board members are far and few between. Beware of burning out these valued supporters on Giving Tuesday.
Individually ask them how they prefer to participate on Giving Tuesday. A lead donation? A matching gift? A Peer-to-Peer campaign? These exciting opportunities make major donors feel as important as they are.
Major donors LOVE exclusive experiences. Offer them the opportunity to set the tone with a lead or matching gift. Try speaking to your board's competitive nature: challenge them to see who can raise the most funds. Give the top fundraiser a high-end gift donated by a sponsor.
DON'T lose valuable donor data to Facebook.
Hands down, the number one mistake nonprofits make on Giving Tuesday? Charities will only run fundraisers on Facebook instead of collecting donations on their website. When you do this, your organization loses priceless donor data. You may be losing lifelong advocates.
(Psst, don't have a beautifully branded website with a donation collection form? Sign-up now for a free trial with Givecloud!)
DON'T forget to promote your Giving Tuesday participation early.
GivingTuesday recommends beginning Giving Tuesday promotions at least one month in advance. Ideally, your team will roll Giving Tuesday 2021 plans right into your year-end appeal planning starting early fall.
Speaking of early promotion, try to locate lead gifts (which are 10% of your total goal), a gift match, and a team of 5–10 Peer-to-Peer fundraisers. These are great ways to set yourself up for Giving Tuesday success.
Make Giving Tuesday

and

Givecloud Work For You
World Changers, take heart! You CAN make Giving Tuesday work for you with these Giving Tuesday strategies and Givecloud services.
At Givecloud, we understand what you're going through, and we're here to help. We'll be supporting you every step of the way this Giving Tuesday. Whether you need to simplify your Giving Tuesday prep with an all-in-one fundraising platform or the encouragement of a world-class support team, Givecloud's got your back.
This is your year! Now go crush those Giving Tuesday 2021 goals.
Try Givecloud for Free