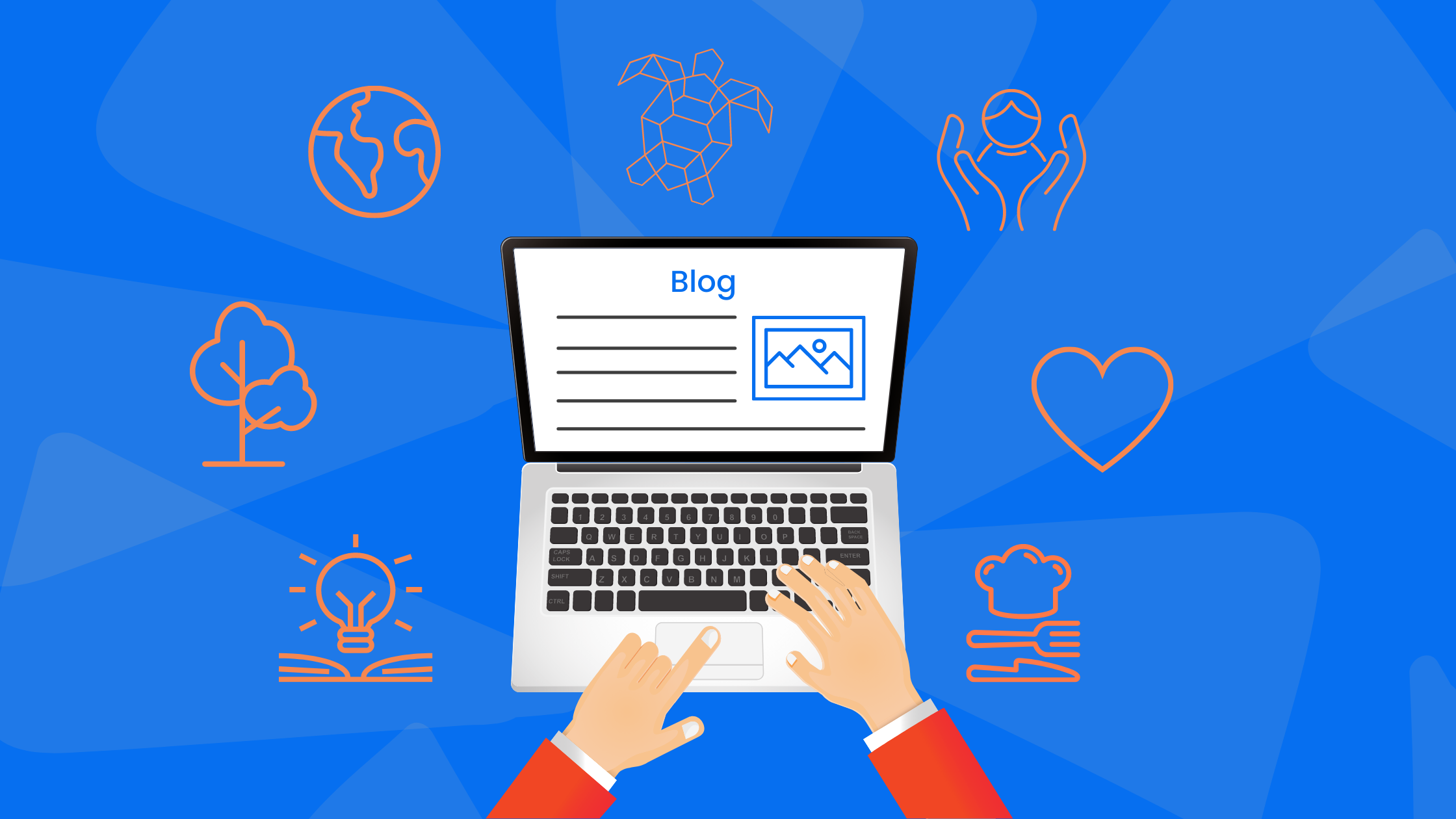 Feb 26, 2021
10 Topics For Your Nonprofit Blog
Blogging is one of the most versatile content marketing tools that can help your nonprofit build credibility through thought leadership, connect with supporters on a deeper level, ignite action in new ways through the power of nonprofit storytelling, and so much more.
That being said, blogging can be intimidating if you've never done it before. You're not alone if starting a blog for your nonprofit feels like a daunting task. Like any skill, it simply takes practice to develop. That's why we've included everything you need to know before you begin your nonprofit blogging journey.
Keep reading to learn...
Why nonprofits need a blog

Nonprofit blogging best practices and quick tips

10 nonprofit blog topic ideas to get started
Why Nonprofits Needs A Blog
Does your nonprofit organization want more? According to Capterra, nonprofits that blog generate more brand awareness, have more control over their missions and stories, and generally, drive more people to visit their websites. With consistent blogging, nonprofits can garner new supporters AND more donations.
Ready to get started? Let's jump in!
Best Practices and Quick Tips
We promise, nonprofit blogging is not as time-intensive or intimidating as it seems! Plus, the rewards we mentioned earlier far outweigh the investment it takes to get a nonprofit blog up and running. To make things easier, we've gathered nonprofit blogging best practices and quick tips for you:
Think about search engine optimization (SEO): Keywords are critical! Always keep in mind what supporters and potential readers are searching for online related to your organization. Try your best to include 2-to 6-word phrases ("keywords") in your blog titles. For example, "How Emily's 5th Birthday Fundraiser Is Providing Clean Water For Kids." Your keywords here would be "birthday fundraiser," and "clean water for kids." You may also want to consider investing in nonprofit technology for SEO, such as SEMrush or Clearscope.
Keep the audience in mind: Consider what your target audience is most interested in reading about. Would they be more interested in testimonials, project updates, or future programs? Would they prefer informal, short blogs? Or, more formal, long-form articles?
Use headlines: One way to break up content and make it more scannable—especially for mobile-readers—is to include headers throughout your blogs. Be sure that your headers include easy-to-understand information (i.e. not insider jargon).
Include captivating visuals: Pictures and videos are one of the sure-fire ways to keep readers engaged. Try and include one under every sub-header.
Find unique ways to showcase impact: No matter what the blog content is about, always try and find a way to show off the impact your organization is making. Not only will this inspire readers, but it will also educate them on the importance of your mission and the trustworthiness of donating to your cause.
Post consistently: According to Hubspot, "B2C companies that blogged 11+ times per month got more than four times as many leads than those that blog only four to five times per month." Determine how much quality content your nonprofit can create each month, and stick to it to keep that content machine running!
Allow feedback: Blogs can often lack engagement with their readers. You can fix this by asking for feedback via email, surveys, and making a comment section available.
Set up Google Analytics: Setting up a Google Analytics account not only allows you to track your website's overall performance but also allows you to see what blog posts are resonating the most with your audience (e.g., most views, longest views). If you're not sure where to start, search for nonprofit tech for good companies that can help you with Google Analytics. There are many great companies out there helping the nonprofit sector with this!
Always include a call-to-action and social share button: No matter how you structure your nonprofit's blogs, you should always include a call-to-action and a social share button at the bottom. This allows readers to take action after reading, which could be sharing, donating, volunteering, registering, and more. Keep in mind that top nonprofit blogs always strike a good balance here between marketing and fundraising.
10 Topics For Your Nonprofit Blog
Not sure what topics to get started with? Here's a top 10 list of topics for nonprofit blogs to help you get the creative wheels turning:
Milestones and events

Testimonials and success stories

Volunteer and staff spotlights

Relevant research and industry news relating to your cause/mission

History of your organization and overview of programs

FAQs

Write from the perspective of those your serve

Invite a relevant thought leader or influencer to guest on your blog

Cast vision

"Then and Now" stories that demonstrate the importance and impact of your mission
Blog To Build Trust
No matter what your blog is about, the end goal is to establish and build on relationships with supporters. Go beyond fundraising to Trustraising. Subscribe to the Trustraising blog to learn insights on how to do this every week.