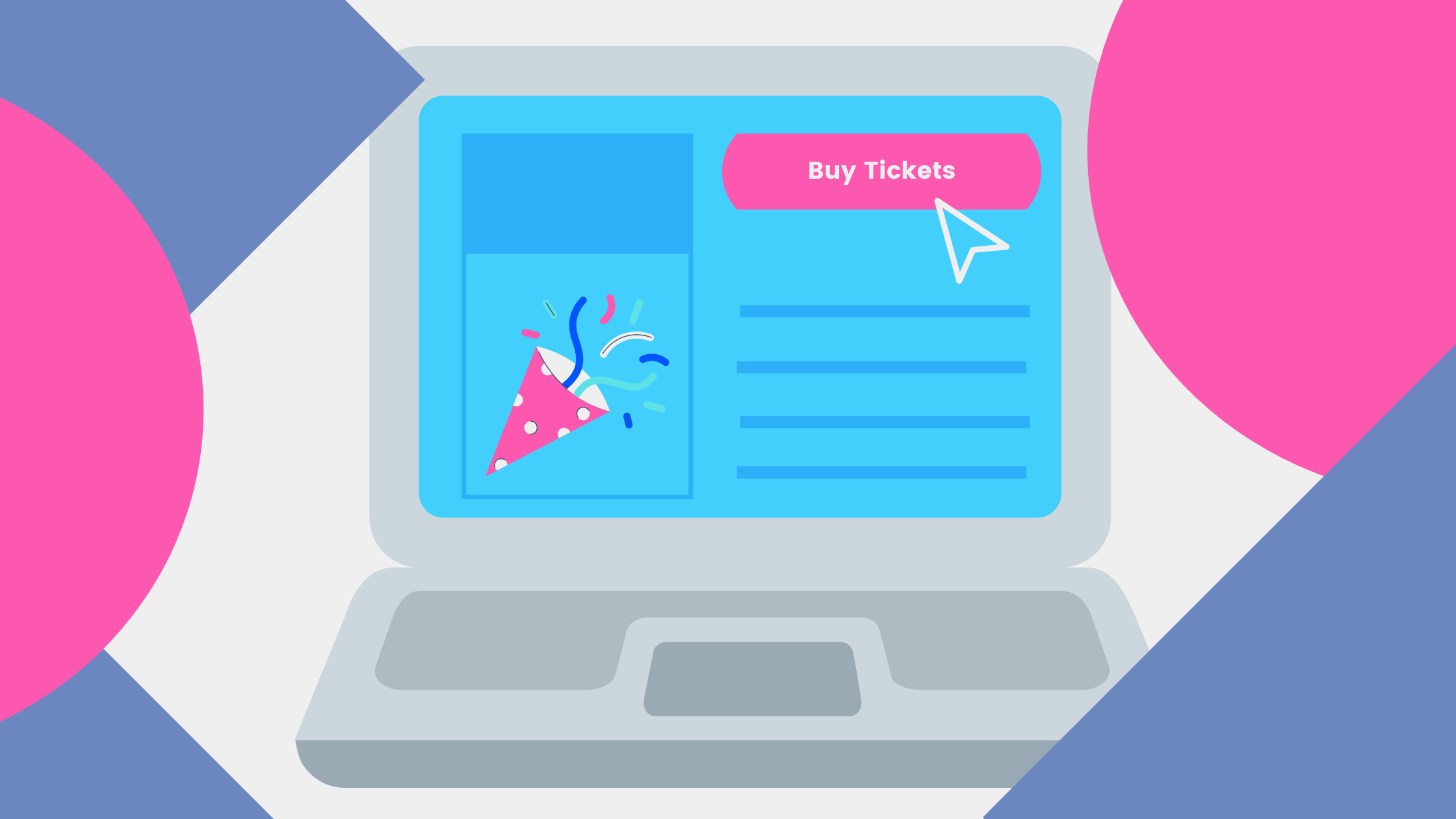 Nov 6, 2020
Nonprofit Event Ticketing 101: Fool-Proof Tips and Tricks
Not only do events contribute to your nonprofit's revenue, but creating a great event experience for donors can help you build a deeper sense of trust between your organization and your supporters.
Go beyond fundraising and begin Trustraising during your events—this process of building trust begins before your event even starts! Seamless event ticketing makes donors excited to attend your event, helps your nonprofit organization drive sales, and is a part of setting the right tone for your fundraising event.
Keep reading to learn everything you need to know about nonprofit event ticketing:
Why your approach to digital ticketing matters

How to make a great first impression with your event page

How to determine pricing for digital tickets

Top tips for driving ticket sales
What is Digital Ticketing?
Digital ticketing is the selling and purchasing of event tickets online through desktop and mobile event ticketing platforms.
Selling tickets online is a growing industry: The market size (measured by revenue) of the digital ticketing industry is $13.2B—and this is expected to increase by 9.5% in 2020.
Online event ticket sales are the best way to promote your event. Around 1.8 billion people made ticket purchases online just this last year!
Approach Digital Tickets Differently Than In-Person Sales
You may be wondering how digital tickets differ from in-person. Should they be different?
You should approach digital ticket sales with intentionality, regardless of if your fundraising event is in-person, online, or a hybrid of the two. The real difference between online tickets and box office sales is your online event page. Your online event page is likely the first and only impression your organization gets when someone is deciding whether or not to attend your event. Event organizers set the stage for donors to easily and enthusiastically say YES to attending your fundraising event.
Keep reading to learn how.
Start With a Remarkable Event Page
Your online event page should . . .
Outline important details

of the event, such as the evening lineup and sponsors.

Create an eye-catching header

image or video. (Did you know that featuring video content on your landing page could increase sales anywhere from

20%

to

86%

?)

Include contact info

for your organization (i.e., email contact, website link, social media handles).

Have a clear call to action

on a button (e.g. "Buy Tickets").

Be easy to share

via email and social media.
Ways your organization can take event ticketing above and beyond . . .
Configure the registration page

to look clear and consistent with your organization's branding (e.g., custom fields, headings, images).

Easily track and export donor data

, using audience data and check-in reports if you need to create lanyards, seating charts, or thank-you cards.

Create an automated, smooth process

for attendees to cover service fees for you and get confirmation and tickets emailed right away. This makes it easy for donors to pull up your event link/code or scan a QR code to enter.
Quick Tips For Determining Ticket Pricing to Drive Sales
For virtual fundraising events, less overhead costs means a lower ticket price (especially if you want attendees to donate at the event). Lower ticket prices for virtual events often means more new supporters from different locations will choose to attend. Try tiered pricing, so donors know they are welcomed at any giving level.
Offer special deals to keep sales peaking. It's common to sell lots of tickets when the event is first announced and then again right before the fundraising event actually happens. Offer strategic discounts to keep ticket sales going in between these two sales peaks. Examples include group deals, location-based discounts, or raffle tickets.
You can also drive fundraising event ticket sales by creating hype around your event. The more popular supporters believe your event is, the more likely they are to be motivated to attend. Make sure they know that your fundraising event is a can't-miss! Communicate scarcity ("Only X seats left!") to encourage donors to act fast and snag a spot at your event. Referrals and FOMO (Fear Of Missing Out) are powerful motivators, especially among younger generations.
5 Best Practices For Ticket Sales
Check out these 5 best practices for ticket sales to close the deal:
Have tickets ready to purchase as soon as you announce

your event—even if you're still planning it! As soon as your supporters hear the announcement,

more than one-third of them

will be ready to purchase and would prefer to buy tickets as soon as they decide to.

Use email drip campaigns

. Organizations that use email drip campaigns see an

increase in sales by 20%

. Segment your emails by top categories such as active donors, lapsed donors, and volunteers. Then, be sure to set the event email series to exclude those who have already purchased tickets.

Leverage social media

. Create event promo tailored to each platform. If you have guest speakers, grow your reach by asking them to post about your fundraising event on their personal accounts and connecting with their audience.

Write compelling ticket descriptions

. Stay mission-centric and demonstrate the value of a ticket ("$50 provides 10 meals for 1 child"). Don't forget to include clear instructions with all of the important details for your fundraising event (e.g., location, parking, login, password, attire, etc.).

Try early-bird pricing

and offer early adopters a 10–20% discount with a special promo code. Early ticket sales not only benefit your fundraiser, but it also builds momentum on your event page ("X tickets sold / X tickets left"). Plus, capping your event at a certain number of attendees, even if it's a digital fundraiser, creates a much-needed sense of urgency to drive ticket sales.
Take Your Fundraising Event Ticket Sales to New Heights
Here at Givecloud, we want to help you create an effective and stress-free event ticketing process for you and your supporters. Our event ticketing platform can do all of these things (and more!) for you, so you can focus on doing what you do best.
Get started with Givecloud today. We make it easy for you to connect with supporters and begin building trust from the moment they visit your event page.