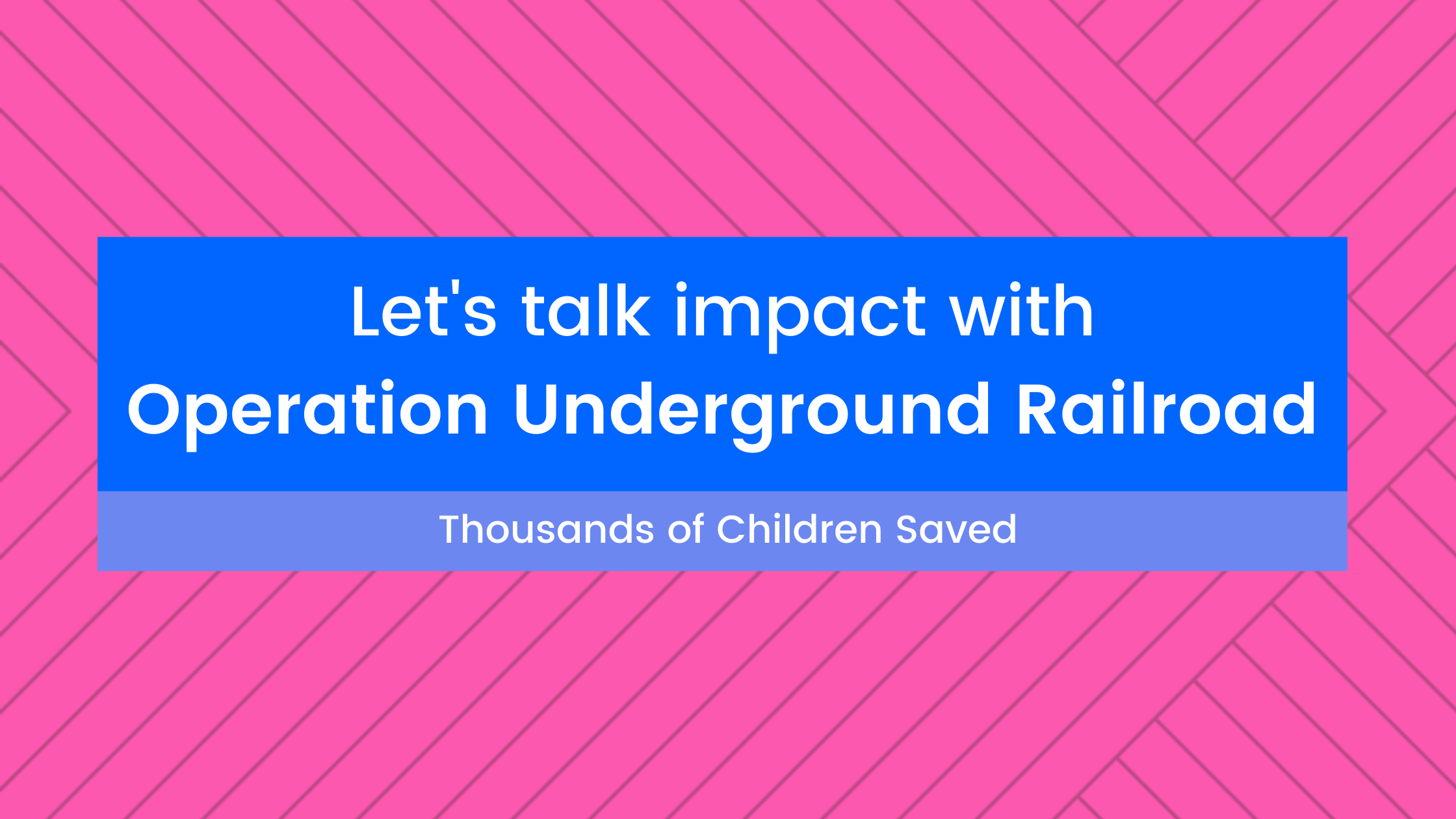 Apr 16, 2021
Meet Operation Underground Railroad
Since 2014, Operation Underground Railroad (O.U.R.) has mobilized world experts in extraction operations, anti-child trafficking efforts, and aftercare services. They're on a mission to end these atrocities to children.
Thanks to its mission-driven supporters, O.U.R. has made a significant impact in the fight to end sex trafficking and sexual exploitation by rescuing thousands of survivors in 28 countries around the world and in 26 states within the United States.
Their efforts are immense, and their dedication is fierce. To achieve their mission, O.U.R. relies on support from their passionate donors around the globe. Their cause is not easy for potential supporters to internalize as child sex trafficking and sexual exploitation is a harsh reality. O.U.R. educates supporters and motivates them to act. O.U.R. has raised awareness and is delivering on their promise to make a real difference for so many children.
How These World Changers Raise Funds
ENGAGEMENT = IMPACT: O.U.R. knows different communication methods appeal to different demographics, so their goal is to use every avenue they can to reach people. O.U.R. inspires supporters through general marketing campaigns, supported by twice-monthly email updates and quarterly direct mail pieces. The O.U.R. team also sends text messages to subscribers when big events or operations are happening. Every communication from O.U.R. highlights different survivor stories and updates from the team.
DIVERSIFICATION: Supporters primarily give to O.U.R.'s mission through their general donation website and online store. Purchasing merchandise is often the first step people take when looking for ways to support the cause. Because O.U.R. volunteers are proactive in raising awareness, O.U.R. also utilizes Facebook fundraisers, volunteer events, and peer-to-peer fundraisers for supporters who want to host their own events (i.e., an online birthday fundraiser, a lemonade stand, etc.). In recent months, smaller charities have even created their own fundraisers to support O.U.R. The key is finding every avenue to meet donors when and how they want.
O.U.R.'s Biggest Fundraising Challenges
When O.U.R. first started raising funds, they were using services from several different platforms. This allowed them to do what they needed to get the job done. Still, after seven years into growing the organization, it became difficult to keep track of all of their different processes and systems or have a consolidated view of their impact.
Now, all of O.U.R.'s donor interactions are tracked and recorded in one place. Having a single platform that can do it all provides the O.U.R. team with greater peace of mind and helps them better personalize communication with supporters.
An Unstoppable Force For Good
Despite all of the odds, O.U.R. has been able to navigate COVID-19 restrictions without letting up on their mission. They faced the pandemic with innovation in mind, and like so many other nonprofits during this time, O.U.R. needed to find a way to host their annual gala event online.
This was their first time hosting a virtual event of this magnitude, and they were nervous—understandably so! Even though no one knew going in with a new platform and process, their ability to provide an engaging donor experience virtually was a huge win. During the annual Gala event O.U.R. recognized supporters, tracked donations in real-time, encouraged chat and emoji participation, and of course, asked for one-time and recurring support. Their ability to translate dollars into impact through vivid storytelling was tremendous. They made donors feel as connected as ever to the organization, even from their own homes.
They had hundreds of people join their virtual gala, raising hundreds of thousands to support O.U.R.'s critical mission. The O.U.R. team has since received lots of great feedback from attendees.
O.U.R.'s Fundraising Advice For Other World Changers
Here are the best practices O.U.R. has learned over the years to help fundraisers stand out, raise more, and increase impact.
Find a unique approach
There's so much going on in the nonprofit space—which is fantastic because it means so many are mobilizing to do good—but nonprofits need to ask themselves, "How will we set our organization apart?"
Personalize as much as possible
O.U.R. knows how difficult it can be to personalize fundraising. Not only do they have a wide range of supporter demographics, but different groups of people are interested in different aspects of O.U.R.'s mission. They personalize their fundraising efforts by tweaking their email updates to target each type of donor in a deeper way.
Show supporters the impact and share compelling stories
Telling powerful stories and sharing real-life impact with supporters is a key part of O.U.R.'s fundraising success. O.U.R. prioritizes sharing first-hand experiences to promote their important cause and increase visibility to a growing global issue.
They frequently interview law enforcement partners, members of their operations, and aftercare teams to share what's going on behind-the-scenes with supporters. They also follow survivors' stories after they've been rescued to show how they're getting a second chance at life and tracking their progress over time. O.U.R. shares these stories and more through mid-year and annual reports so that donors can see the impact of their dollars.
Work with influencers
Influencers who have strong followings can have a big impact. O.U.R. works with many influencers to help share their story and increase awareness.
Find a platform that does it all
The O.U.R. team recommends finding a platform that ties all of your fundraising efforts together. Not only is it going to make your work less stressful, but it's also going to improve internal effectiveness of your team and external connection with your supporters.
Do More, Raise More
O.U.R. won't stop until child slavery is eradicated, and we believe they can change the world. Organizations like O.U.R. use Givecloud's simple tools to do all their fundraising in one place so they can spend more time and money on their mission and less on administration. Join hundreds of other World Changers and give your supporters an engaging fundraising experience with Givecloud.