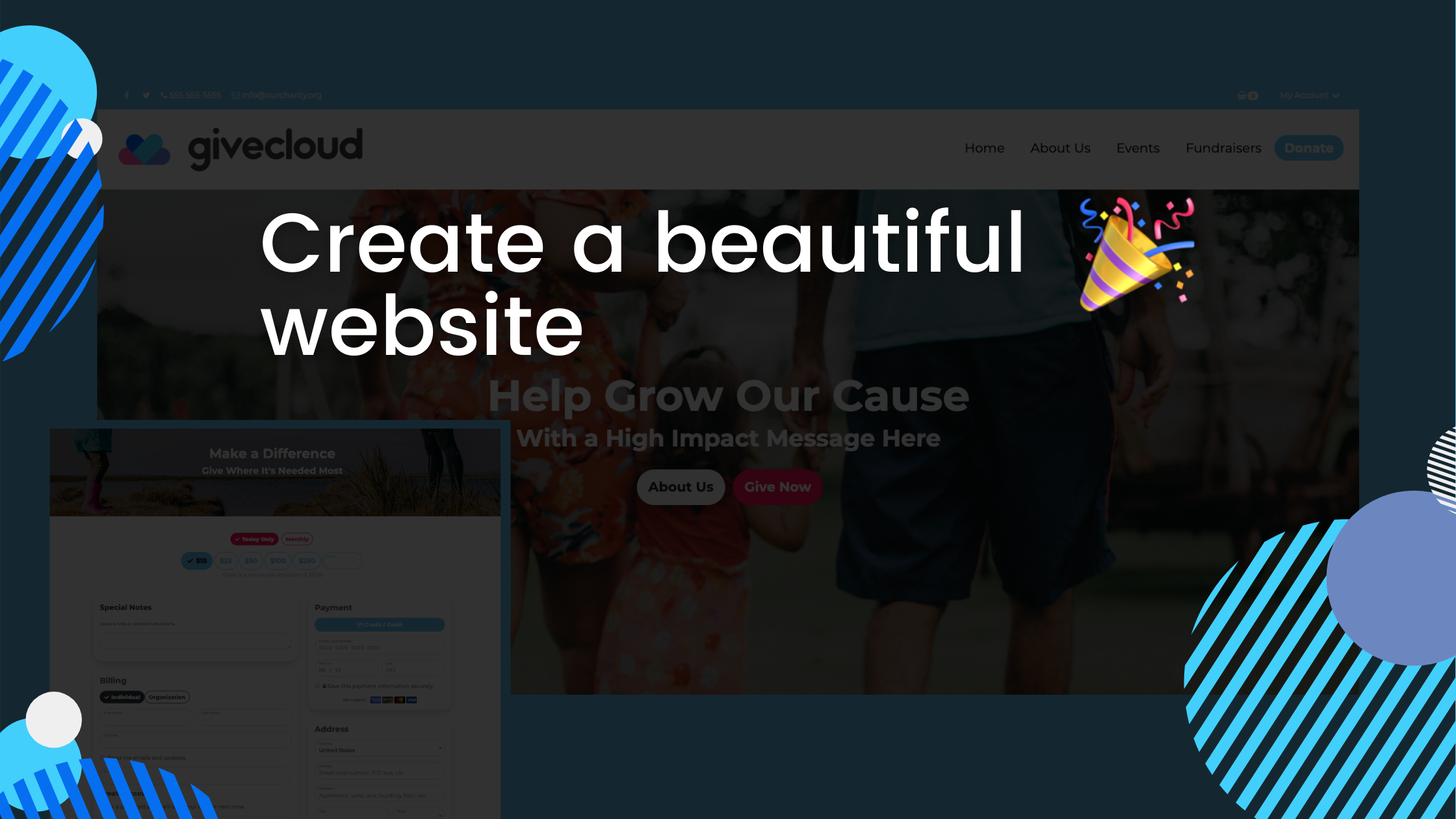 Nov 13, 2020
10 Proven Website Design Tricks to Raise More Funds
In our digital age, having a well-designed and user-friendly website is no longer just "nice to have." A high-quality website has become the baseline expectation for organizations hoping to connect with supporters, regardless of whether or not you're a for-profit or nonprofit.
Even small changes can improve the quality of your website. With a reduced bounce rate, visitors stay longer, learn more about your mission, and get closer to building trust. Has your nonprofit been pushing off a much-needed website overhaul? Don't worry. We've made it easy for you to give your site the boost it needs.
Keep reading for . . .
An intro to nonprofit web design

Top 10 website tricks to raise more funds
Intro to Web Design
You don't have to be a web developer or designer to create a beautiful and effective website for your nonprofit. But, it is helpful to know some of the basics of web design.
First, let's define what effective nonprofit website design is all about.
Making a memorable first impression on viewers.

Grabbing viewers' attention, so they stay long enough to learn more about how you're changing the world.

Elevating your mission's impact and success.

Highlighting changed lives as a result of your work.

Compelling viewers to engage with your nonprofit: volunteering, donating, following on social, subscribing, etc.
In other words: capture, inspire and engage. The most successful nonprofit sites capture viewers' attention by inspiring and engaging them in the important work they do.
Top 10 Website Tricks to Drive Donations
Winning supporters with good web design is all about powerful storytelling, effective visuals, and easy navigation. Here are 10 proven website design tricks to raise more funds.
1 - Easy Navigation
Nonprofit websites should use intuitive design. This means all sites should have a clear page navigation, primary navigation bar, contact information in a footer, and an overall user-friendly interface for viewers to explore. In a study conducted by Clutch, 94% of the respondents say easy navigation is the most useful website feature.
Pro tip: invite individuals from different generations who have never been to your site before to give you feedback on-page navigation.
2 - Clear Call-to-Actions and Donate Links
The top three communication tools that most inspire donors to give are social media, email, and an organization's website. Once inspired, make sure they know where to give!
Make your donate button easy to find. We recommend putting a "donate" or "donate now" button on the top right corner of your navigation bar, so donors can easily see where they can give. Other Call-to-Actions (CTAs) include:
Volunteer with us

See our event calendar

Start a peer-to-peer fundraiser

Create a birthday fundraiser

Register now

Learn more

Contact us
Once donors click "donate," a compelling picture or video should explain the need for and impact of your mission, followed by a simple donation form.
3 - Compelling Storytelling
Sharing your nonprofit's story is a powerful way to draw viewers in. This should be a central part of every page of your website. Your homepage should include your mission, vision, and impact statements, as well as a testimonial. You may also want to dedicate pages to storytelling, such as blogs and success stories.
Don't forget eye-catching visuals! This includes stock photos, videos, icons, fonts, and colors that complement your stories. Here are a few reasons why visuals are important:
4 - Optimize for Search Engine Optimization (SEO)
SEO allows potential supporters to easily find nonprofits. Organic traffic (website traffic generated by unpaid search results) comprised 44% of all nonprofit website visits in 2019.
Two quick tips to help you get started: 1. make sure every page includes keywords supporters may be searching related to your nonprofit, and 2. on the backend, always write META descriptions.
5 - Loads Quickly
Speaking of strong SEO, make sure your pages load quickly—visitor attention is limited. You don't want people to abandon your site because a page takes too long to load. Viewers have high expectations:
Pro tip: Always compress pictures, avoid Flash, and limit custom fonts (sans serifs is always a winner), scripts, and plugins.
6 - Strong Security
In 2019, 81% of organizations were affected by a successful cyberattack. It could happen to anyone—don't let it happen to your nonprofit. Protect your donor's data by purchasing an SSL and using a platform that is secure. Additionally, donors may find it comforting as they pay attention to security logos on your site.
7 - Responsive Design
Mobile-optimization is a MUST. Half of all nonprofit website visits have come from users on mobile devices this year. Desktop users accounted for 41% of visits, and Tablet users 9% (this represents an 11% increase in the traffic share for mobile devices from 2018).
Pro tip: When designing your site, create and view it in the mobile-size first.
8 - Simply Beautiful
Clean design elements that are consistent with branding and easy to read will positively impact how nonprofits are perceived. Go back through your website to make sure that the layout aligns with your overall branding and fundraising goals. Make sure that there isn't information overload or too many CTAs (leave some white space!). Remove anything that isn't helping you reach (or maybe detracting from) your current goals.
9 - Links to Other Communications
When thinking about how to engage viewers, don't underestimate the power of linking to other channels of communication. For example, social media platforms, email newsletters, mailings, blogs, or podcasts. Viewers may come to your website from time to time, but they are more likely to consistently engage with other channels of communication.
Good news: the average website conversion rate is 2.35%. Instead of losing the visitors that don't convert, stay in touch with them! Include icons that link to social media and email subscriptions in your header and footer for easy access. (An added bonus: these backlinks to other sites may also improve your search ranking.)
10 - Organized Back-End
An organized back-end makes it exponentially easier to quickly update your website. You can stay organized and save time by linking your site to your CRM. This will help you track ticket sales easily. If you sell products, this will also help you be able to track online shopping.
Work Smarter, Not Harder
Shine online with a beautiful custom website that wins supporters. Givecloud is simple to set up and easy to use. Plus, our real-time integration with DonorPerfect streamlines time-consuming data imports and tracks all of your donor's giving activity on your website. (pst...we have other exciting integrations in the works to simplify your admin processes)
The best part? No coding required. You can also keep your existing site and use Givecloud as a subdomain for collecting donations, offering products and tickets for sale, and more. Join those using Givecloud to spend more on mission, and less on administration.